Fundraising for Charity 2011
2011.03.18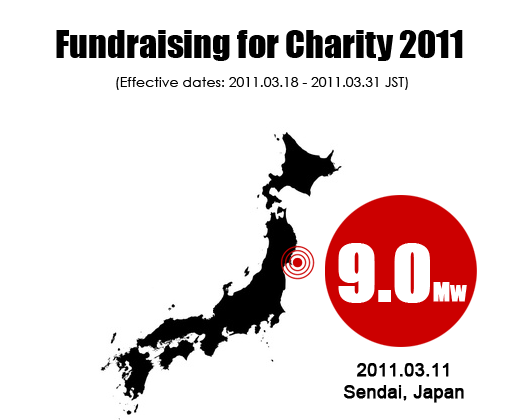 More than USD 25,000 was donated.
Thank you for your supports!
Beside supporting the rescues in Japan, the donation will also be used to provide medical aid in war-torn regions and developing countries such as Libya, Congo, Ivory Coast, Bahrain, Egypt, Tunisia and Haiti...etc.
In order to ensure the funding will be transferred to the corresponding organization, the donation will be audited by an independent CPA (Certified Public Accountant)
Targeted benefiticiary: Medecins Sans Frontieres (Doctors Without Borders)
The fundraising results will be announced in April.
募金は東北地方太平洋沖地震で使うだけではなくて、戦争で荒廃したエリアと発展途上国(例えば:リビア、コンゴ民主共和国、象牙海岸、バーレーン、エジプト、チュニジア、ハイチ 等)で医療扶助のに使うかもしれません。
同団体国境なき医師団へ譲渡させる予定である募金を持ち堪えさせるため、独自の公認会計士を寄付金を調査する為にも雇用する予定です。
対象:国境なき医師団 Medecins Sans Frontieres (Doctors Without Borders)
募金総額は4月にサイトでお載りします。